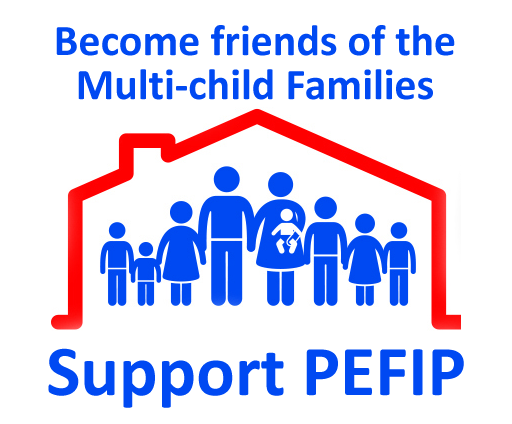 A. Our Charitable work in general
• 10,000 super-large and large families were supported morally and materially by the "Panhellenic Union of Friends of Multi-child Families" (P.E.FI.P.), through out the 50 years of the existance of P.E.FI.P.
• 2,000 Multi-child Families from all over the Country which are in our active file, contact P.E.FI.P. for moral and material support on a daily basis throughout the year.
B. Ecpecially
What is the offer of P.E.FI.P. to the multi-child families:

1.Emergency and regular financial aids. Offers in material goods (clothing, food, household utensils, school supplies, etc.).
2. Rent payments, prevention of evictions and interruption of electric, water or telephone service,
3. Release from prison, prevention of auctions for debts and overdue loans with exorbitant interest rates.
4. Student aids-Scholarships for excellent and diligent students but also help for the children's family rehabilitation , especially for girls.
5. Special protection for not married women who are daughters of large families, for prevention of abortions, marriage, baptism of children etc.
6. Finding jobs and giving the necessary help to super large families to solve their problems.
7. First and immediate help to large families, as practically P.E.FI.P. operates as a "FIRST AID STATION FOR POOR MULTI-CHILD FAMILIES OF GREECE ", but also as a
8. "CONSULTING STATION OF MULTI-CHILD FAMILIES", through special publications and books. Also P.E.FI.P contacts with family members and provides them information about their rights and guidance about their duties.
9. At least 3,300 parcels with total weight of 66,000 kg (66 tons) are delivered to large and super-large families by P.E.F.I.P. every year which come from offers-donations.